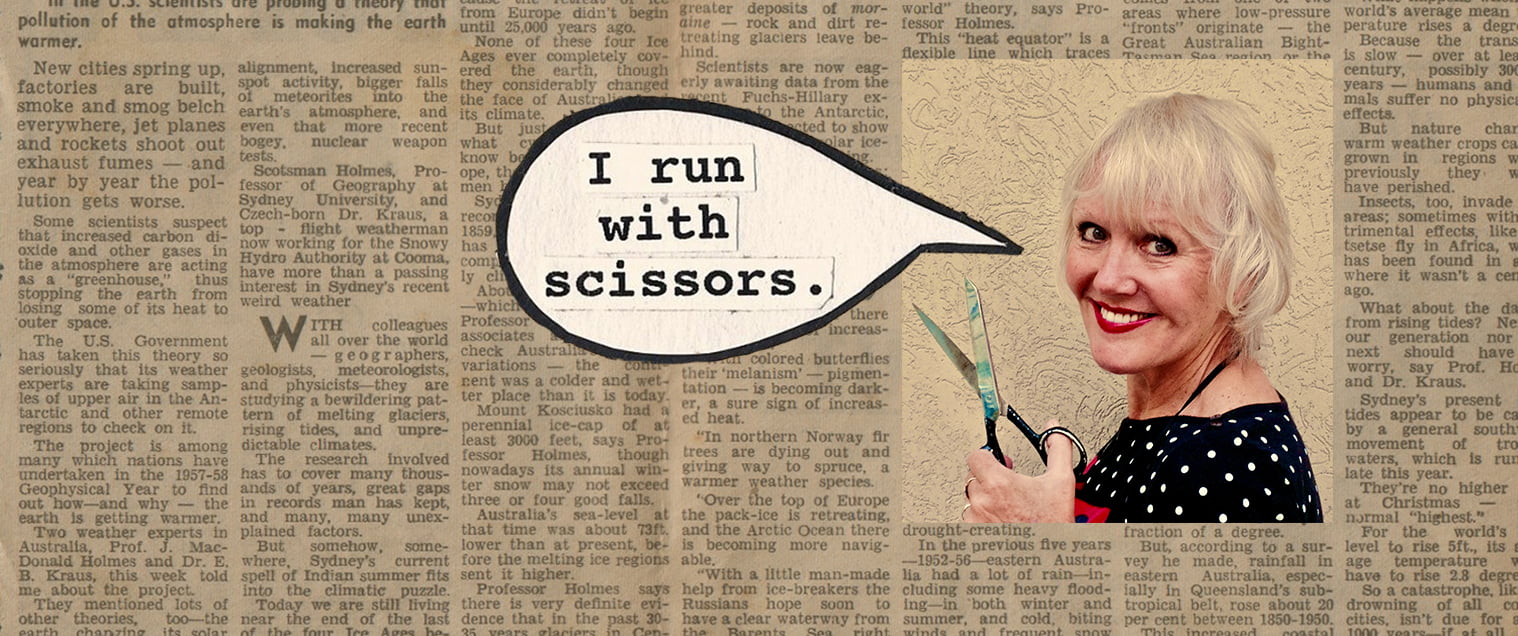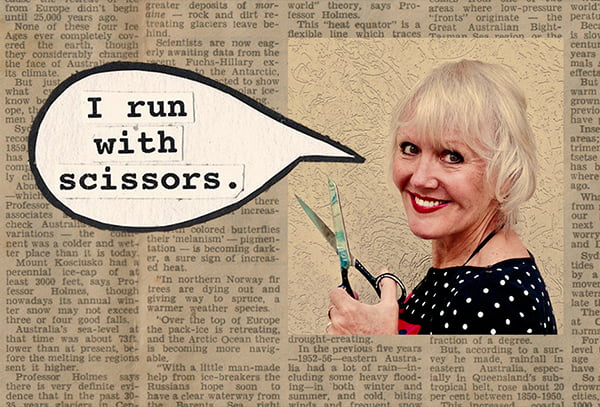 Sometimes I laugh so hard the tears run down my legs.
That's the caption on one of Alice Hinther's most popular greeting cards, one with a cheeky looking 1950s woman against a red polka-dot background, but it could just as well describe reactions to her line of collage greeting cards which are now available in stores across Canada, the U.S.A., Europe and Australia. Humour and whimsy are a theme in much of this self taught, multi-media artist's work - from her greeting cards, calendars, paintings, stained glass mosaics, garden art, jewelry and recycled furniture. Alice lives in Ottawa, Ontario, Canada.
The Adventures of Mr. Mouse
The story of Mr. Mouse started when I decided to build a little mouse house in the staircase at my cottage with my then 8-year-old grandson, Ty. I cut a hole in the riser of the stair and built a little living room scene behind the staircase complete with chairs, a couch, a coffee table and magazines that he could peer into. We then started setting up various scenes - Mr. Mouse preparing Easter dinner, Mr. Mouse cleaning the dishes after hosting Easter dinner, Mr. Mouse working in his workshop, etc.
Before I knew it, Mr. Mouse had a whole life of his own and I started building a story around him. Mr. Mouse, whose first name is Orville, is a widowed mouse. His wife, Ethel, passed away 2 years ago and he lives in a rambling old house on his own. He is a retired carpenter, so he busies himself with carpentry projects in his workshop. He has many other hobbies such as cooking, painting, fishing and hiking but often feels lonely and would like to find a Mrs. Mouse to share his life with.
The stories follow his adventures and his pursuits in finding the perfect mate.
Great People Saying Great Things
Alice's knack for turning everyday events into moments that ring so true to everyone has made me a collector of her cards and calendars. I always have a few on hand to give family and friends for special celebrations. Somehow she has always created a card that sends the message I want to send. Alice sees the world through her own delightful lens and I'm so happy she shares the view with the rest of us.
Wendy Thompson, Ottawa, Ontario, Canada
Alice says things out loud that I only think inside my head.
Nancy Yarwood, Ottawa, Ontario.
Whimsy is the word that comes to mind when enjoying Alice's artwork.I purchase her hilarious and sometimes poignant cards from her greeting card lineup. The calendars Alice makes, featuring the artwork from her card line, or the Adventures of Mr Mouse make me look forward to turning to each new month with a smile.
Maggie Kerkoff, Arnprior, Ontario, Canada.
Each of Alice's pieces is perfectly crafted; suffused with a vital energy that always makes me smile.
Barbara Lunney, Ottawa, Ontario.
Alice's unique brand of retro art is always beautifully designed, and bitingly funny. One greeting card I bought years ago was so good I couldn't bring myself give it away.
Louise Elliot, Ottawa, Ontario
I am so pleased to have some of Alice's whimsy gracing my home. They are little beacons of joy and humour. Alice is an abundant font of enthusiasm and artistic creativity.
David Lavender, Winnipeg, Manitoba, Canada
Alice's art work is representative of the woman she is; joyful, exuberant, colourful, human, caring. I am ever cheered by the pieces I have at home.
Rosann Cerezia, Ottawa, Ontario