The story of Mr. Mouse started when I decided to build a little mouse house in the staircase at my cottage with my then 8-year-old grandson, Ty.  I cut a hole in the riser of the stair and built a little living room scene behind the staircase complete with chairs, a couch, a coffee table and magazines that he could peer into.  We then started setting up various scenes - Mr. Mouse preparing Easter dinner, Mr. Mouse cleaning the dishes after hosting Easter dinner,  Mr. Mouse working in his workshop, etc.
Before I knew it, Mr. Mouse had a whole life of his own and I started building a story around him.   Mr. Mouse, whose first name is Orville, is a  widowed mouse.  His wife, Ethel, passed away 2 years ago and he lives in a rambling old house on his own.  He is a retired carpenter, so he busies himself with carpentry projects in his workshop. He has many other hobbies such as cooking, painting, fishing and hiking but often feels lonely and would like to find a Mrs. Mouse to share his life with.
The stories follow his adventures and his pursuits in finding the perfect mate.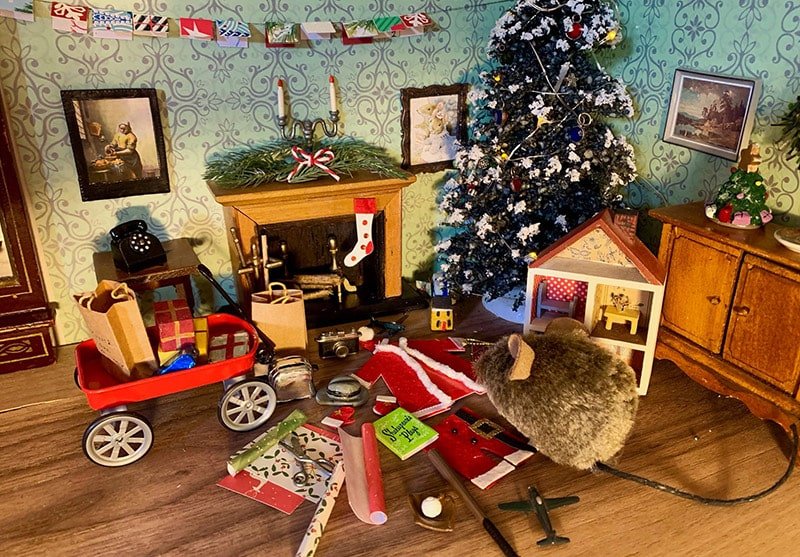 T'was the night before Christmas and all through the house, not a creature was stirring, except for Mr. Mouse.
He was busy wrapping Christmas gifts for his friends and neighbours. A baseball bat for Ty who delivers his newspaper. A catcher's mitt and ball for Ty's sister, Klara. A new camera for his friend Erv. He had already sent a parcel off to his niece and nephew, Charlie and Loretta hoping it would arrive on time for Christmas.
There was a toaster for his elderly neighbour, Eddy. What Eddy really wanted was a new fridge but Mr. Mouse couldn't afford it on his meagre pension so he thought a toaster would be the next best thing.
He was still putting the finishing touches on the dollhouse he was building for the twins, Patty and Betty so he knew it was going to be a late night.
Once they were all wrapped, he would dress up in his Santa suit , fill his red wagon and by the light of the moon, and secretly deliver each gift to his friend's doorstep to be found on Christmas morning.